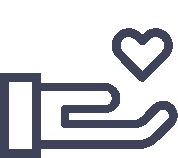 "Upon the first day of the week let every one of you lay by him in store, as God hath prospered him"
In the offering plate or drop off your check by the church.
Most Banks or Credit Unions have a Bill Pay option. Add us, GracePointe church to your payments and they will send us a check.
​
Check with your financial institution if you need help with this option.
You can Download the Tithe.ly Giving App to pay using your Smartphone

Your gift is safe & secure and goes directly to your church or ministry. Plus, you'll be able to track all your gifts, setup recurring, and more!
Snail Mail still works!
Write a check and slip it in the mail to:
​
GracePointe Church
3626 N Ohio Street
Augusta, KS 67010